Avis
importants
Coronavirus (COVID-19)
The following measures are designed to protect our customers, employees and partners during required on-site work related to our activities.
Our customers and employees must:
Avoid all unnecessary direct contact.
Maintain a safe distance of two metres between each other.
Follow the safety measures issued by public health authorities.
Sign up for notifications about the outage.
Use the Hydro-Québec app to track a power outage and receive notifications to stay up to date.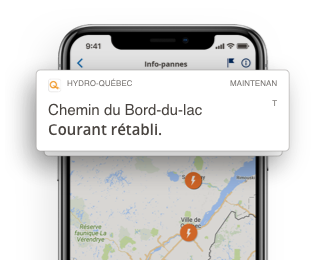 Be prepared in case of a power outage.
Have a list of emergency numbers on hand, unplug your electronics and check your electrical installations. Here's a list of additional measures you should take before, during and after an outage. But above all, stay safe!