Avis
importants
Coronavirus (COVID-19)
The following measures are designed to protect our customers, employees and partners during required on-site work related to our activities.
Our customers and employees must:
Avoid all unnecessary direct contact.
Maintain a safe distance of two metres between each other.
Follow the safety measures issued by public health authorities.
Your best ally in the event of an outage.
Use our mobile app to report an outage and stay abreast of the situation. Sign up for alerts to receive a message if the anticipated service restoration time changes and/or once service is restored.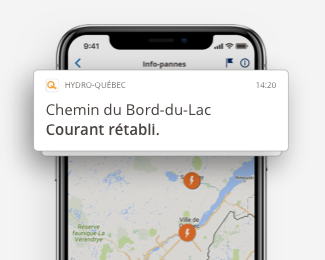 Be prepared in case of a power outage.
Have a list of emergency numbers on hand, unplug your electronics and check your electrical installations. Here's a list of additional measures you should take before, during and after an outage. But above all, stay safe!